SPECIAL CARE NEWBORN UNIT, JMCH.
The neonatal services in JMCH started in the year 2010 with 4(four) beds in a makeshift room in the labour room complex of the erstwhile JDS Civil Hospital Building. Subsequently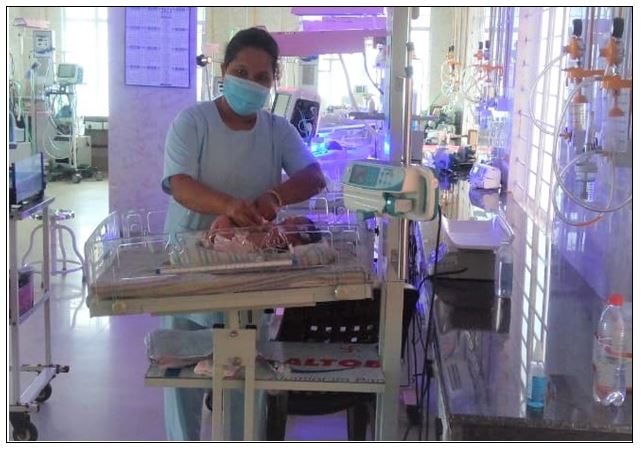 it was shifted to the old paying cabin complex- the latter being renovated to accommodate a 10 bedded Neonatal Nursery and 5 bedded PICU. This miniature 'ICU complex' was subsequently bolstered by the provision of central medical gas supply from the adjoining main ICU.
The Special Care Newborn Unit (SCNU) comprising of 24 beds was operationalized on August 15, 2011 (as a joint venture of NRHM, UNICEF and GOI) in the old hospital building adjacent to the labour room complex. The establishment of this SCNU was a major boost in existing infrastructure in terms of bed capacity, space and equipment with potential improvement in neonatal care services for Jorhat and adjoining districts.
With the continuing increase in patient load, there was a felt need to expand the maternal and child health services in JMCH which lead to the establishment of the Mother and Child Hospital (MCH) which was operationalized on 12th May 2017.The present SCNU in the MCH building initially had a bed capacity of 41 beds which was further expanded in the year 2019 to total of 65 beds through creation of a separate outborn wing of additional 25 beds.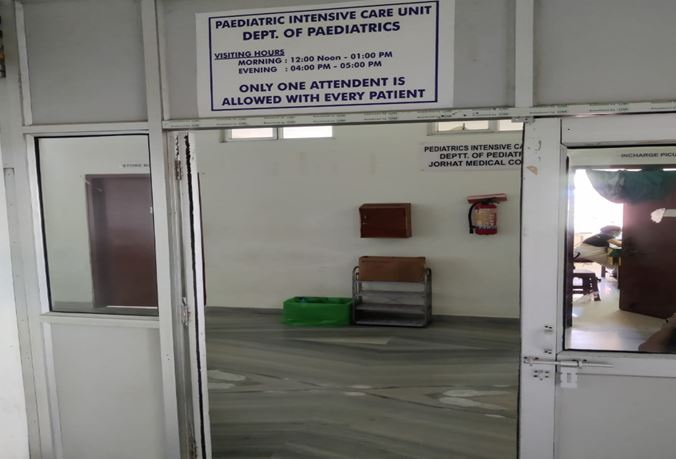 Manpower positions in neonatal service, SCNU
Nodal officer: Dr M N Baruah, Associate Professor.
Specialist Pediatrician: Dr (Mrs) Swapnalee Baruah
Sister In-charge: Mrs. Nikunja Nath, Mrs. Lakhmi Nath
Total number of sisters: 49
Supporting staff: 08
PICU:
Manpower positions in PICU
Sister In-charge: Jalikon Dekari
Total number of sisters: 17
Supporting staff: 07
Manpower positions in Pediatrics Ward
Sister In charge: Hemakanti Gogoi
Total number of sisters: 11
Supporting staff: 06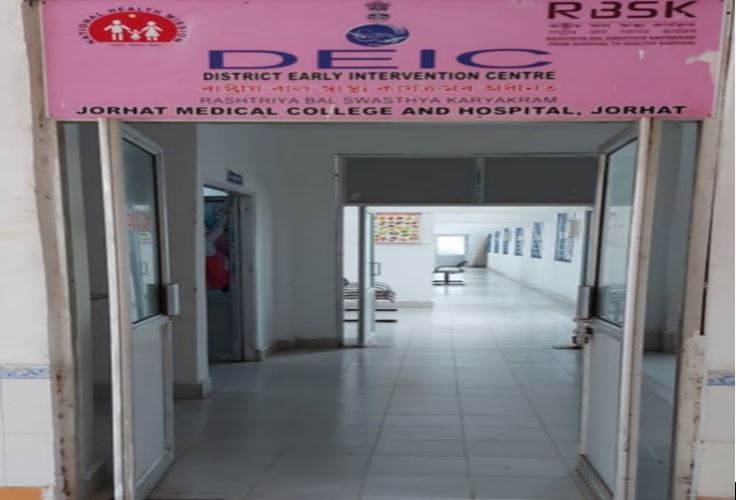 District Early Intervention Center (DEIC)
DEIC was started in the department t of Pediatrics, JMCH from March, 2015 under Rashtriya Bal Swasthya Karyakram (RBSK), JMCH being the only medical college of Assam to have such a center.
It is a multidisciplinary center under the same roof that offers a range of therapeutic services to children between 0-18 years of age covering 4 Ds. D- birth defects D- deficiencies D- diseases D- developmental delay and disabilities.
It provides services to patients of other districts like Majuli, Golaghat, Sivasagar, KarbiAnglong also.
At present the DEIC team comprises of Pediatrician, Medical Officer, Manager, Psychologist, Dental Surgeon, Speech Therapist, Pharmacist and Staff Nurse.
The services are free of cost from investigations to treatment. At present the center is providing hearing aids free of cost to those children who are suffering from hearing impairment.
Manpower positions in DEIC RBSK:-
Manager: 1 (Ms. Rumi Devi)
Dental Surgeon: 1 (Dr. Mrigakhi Bordoloi)
Staff Nurse: 1 ( Mrs. Pompi Gogoi)
Psychologist: 1 ( Mrs. Amrita Kashyap)
Speech Therapist: 1 ( Dr. Bimal Kumar Kalita)
Pharmacist: 1 ( Mr. Mainul Haque Chaudhary)
Nutritional Rehabilitation Center (NRC)
Nutritional Rehabilitation Center (NRC) was operationalized on 26th of April 2015 with 10 beds. It's a unique platform that provides comprehensive nutritional and medical support for the treatment of severe acute malnutrition (SAM) children detected in the community.
All services including medicines, therapeutic diet and investigations are provided free of cost to the beneficiaries.
Mothers/caregivers are also trained on how to make nutritious diet from lost cost and freely available food items during the hospital stay.
Mothers/caregivers are also given wage compensation. The ASHA also gets incentive for successful completion of treatment.
Manpower positions in NRC
Dietician: BhaskarjIt Gogoi
Total number of sisters: 4
Supporting staff: 1