ONLINE PRESENTATION on JMCH REFLECTIONS, an International platform
Under the banner of JMCH REFLECTIONS, on September 1, 2021, with Prof. Dr. T. Gogoi, HoD, Department of Ophthalmology, JMCH, as the host and moderator, an online presentation was delivered by Dr. Syamanta Boruah, Asst. Professor, Dept. of Ophthalmology, JMCH on Eye Donation and Corneal Transplantation followed by guest speaker Dr. Anindya S Chakrabarty, Eye Sight Foundation, Delhi who presented the surgical aspects of Corneal Transplantation.
It greatly helped to spread the information on Eye Donation and Corneal Transplantation to the people all over the world JMCH REFLECTIONS being an international platform.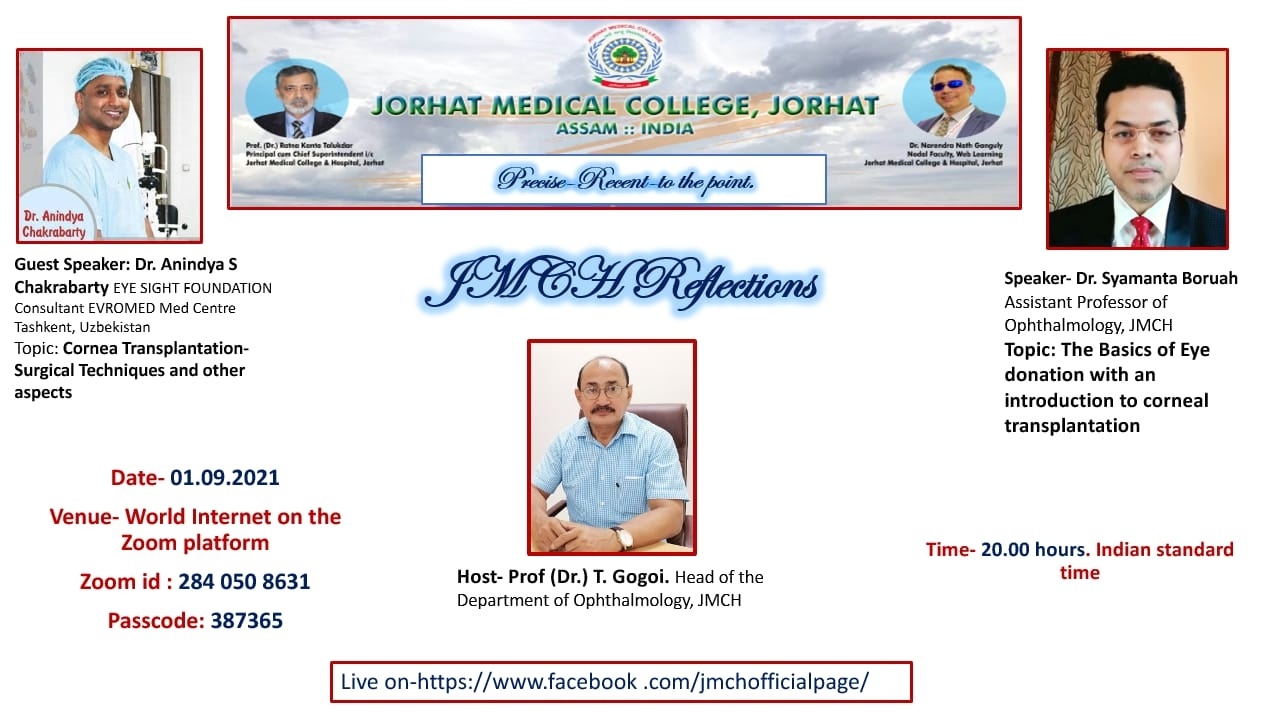 NATIONAL EYE DONATION FORTNIGHT, 2021
The National Eye Donation Fortnight, August 25 to September 8, 2021, was observed in the Department of Ophthalmology along with the rest of the country. Banners were displayed in the OPD and the Department office premises and public awareness on Eye Donation was tried to be created by distributing leaflets with necessary information on the subject. Special caps with mention of Eye Donation were presented to the patients and attendants in the OPD. A meeting was held on August 26, 2021 in the OPD complex on Eye Donation which was attended by doctors, students, nurses, patients and attendants and the message on Eye Donation was shared with all.


VISUAL DISABILITY CAMP
Visual Disability Certificates were issued on 3rd July, 2021, Saturday, to patients/candidates with visual disabilities on percentage basis depending on the amount of Blindness.
(This is done on the first and third Saturdays of every month)