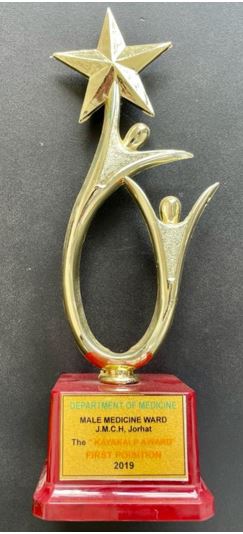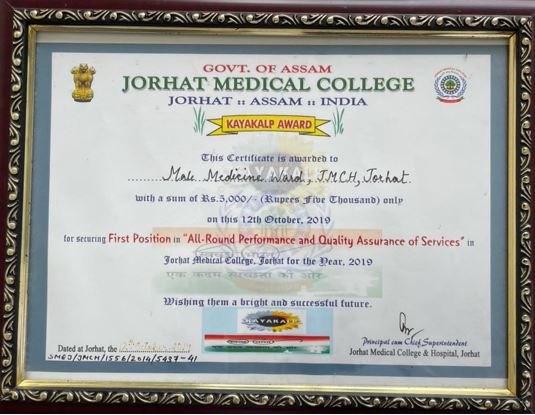 The Kayakalp award 2019 (Male Medicine Ward)
IMA Doctor's Day Covid Warrior Award (Assam) Dr Uttam Kumar Nath
Session 2021-2022
Our faculties and post graduate trainees have participated in various state level and national level conferences an have brought laurels to the institution.
1. Dr. Uttam Kumar Nath, Associate Professor, was invited as a speaker in Gericon 2022, the 22nd Annual Conference of Indian Academy of Geriatrics & 29th Annual Conference of Geriatrics & 29th Annual Conference of API, West Bengal which was held from 28th October to 30th October,2022 at ITC Royal, Kolkata. He delivered an outstanding talk on "Migraine: Is it different in Elderly".
2. Dr. Archi Sharma, Post Graduate Trainee, participated in oral paper presentation on "Evaluation of Aspartate Transaminase to Platelet Ration Index (APRI) in liver cirrhosis patients with special reference in predicting in-hospital mortality" in a CME organised by Department of Pharmacology and Medicine in JMCH and secured 3rd prize.
She secured consolation prize in oral paper presentation on "Acquired Gerbode Defect- An unusual event after Acute Myocardial Infarction " in CARDIOCON 2022, 20th Annual Conference of Cardiological Society of India (North East Chapter) $ 21st Biennial Conference of Assam Cardiological Society, held in Gauhati Medical College and Hospital, Guwahati, from 18th November to 20th November.
She took part in poster presentation, titled "COVID 19 Illness in Acute Myeloid Leukemia- An Interesting Contrast from the Expected" in the 62nd Annual National Conference of the Indian Society of Hematology & Blood Tranfusion- Hematocon 2021, held from 10th November-13th November 2021.
She also participated in Hematology Quiz held in GMCH, Guwahati.
2. Dr. Rahul Kalita, Post Graduate Trainee, participated in XXXI APICON Assam, Diphu 2022, organized by API Assam State Chapter, Diphu Branch, held from 16th December-18th December 2022, in Diphu Medical College and Hospital and secured 3rd prize in poster presentation titled "Moya Moya Disease- an unusual clinical presentation".